The truth is these rosewater cupcakes are so light and fluffy you're going to love them! And since it's February, and there is love in the air, the pink frosting is perfect! You will want to use this olive oil cupcake recipe as a base for all of your vegan cupcakes moving forward, and I don't blame you! I even adjusted this recipe to make Sea Salted Caramel Baked Doughnuts! Get ready for an easy, fluffy, and beautiful vanilla rose cupcake recipe filled with raspberry jam and topped with a homemade vegan raspberry rose buttercream. They're delicious!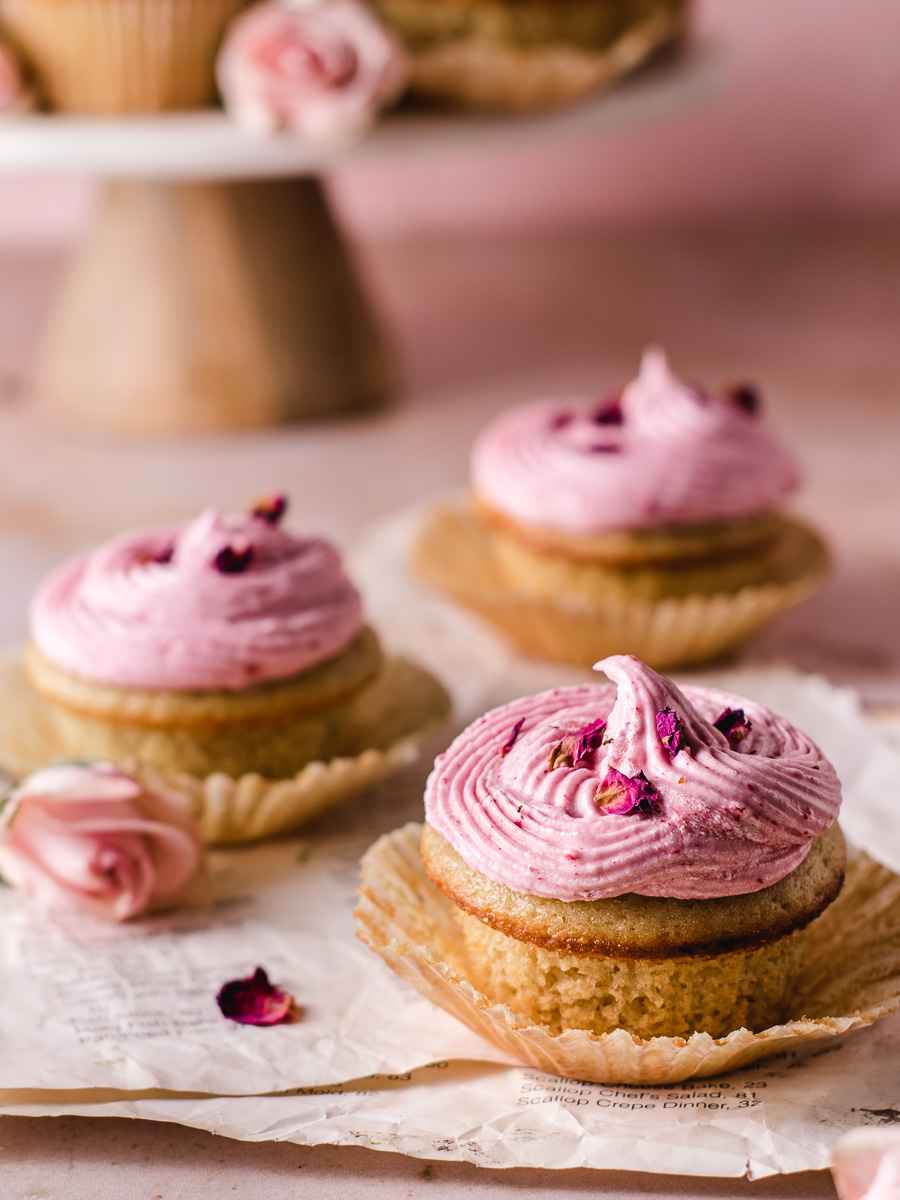 This post is sponsored in partnership with O.live & Co and as always all opinions expressed are my own. Thank you for continuing to support brands that help make Flax & Sugar possible.
Ingredients & tools for olive oil cupcakes
I absolutely love the sweet flavor of O.Live's Mild and Sweet olive oil. It goes perfectly in these vegan olive oil cupcakes. The olive oil isn't too overpowering and allows for the rosewater to still shine through. O.live & Co.'s extra virgin olive oil is pressed with love and held to the highest standard. This means the flavor and health benefits of this olive oil are far superior to other olive oils on the market.
These rosewater cupcakes are so easy to make! There is no whipping or chilling time needed. You will have a batch of homemade cupcakes ready in about 45 minutes! That being said, here are some staples you will need in order to make these vanilla rose cupcakes from scratch:
How to make a fluffy vegan cupcake without eggs:
The most challenging part about vegan baking is probably getting your baked goods to rise like the traditional ones. If you're like me and enjoy a more dense muffin make sure to check out these Healthy Banana Muffins for your next baking adventure. But, for these vanilla rose cupcakes here are a few tips to help them reach a fluffy texture!
Vegan "Buttermilk" – Ok, vegan buttermilk is basically just a fancy way of saying non-dairy milk mixed with vinegar. The apple cider vinegar reacts with the baking soda and helps the cupcake to rise!
Do Not Overmix the Batter- It's perfectly ok for this batter to have a few lumps throughout. To prevent the gluten from breaking down and starting to get sticky, stir only enough to incorporate the dry and wet ingredients.
Fold in the Dry Ingredients- If you haven't watched Schitt's Creek this will be far less funny to you but still practical! "Fold it in" simply means to pour the dry ingredient mixture into the bowl of wet ingredients and stir from the edges of the bowl inward lifting the spatula from the bottom of the bowl and flipping the liquid over the top of the dry ingredients and then repeating until there are no visible dry ingredients. This helps once again to prevent over-stirring and creating a tuff cupcake.
Add in Leaveners- The leavening agent in this recipe is baking soda and it will help the cupcake to rise and reach the perfect crumb inside.
The best vegan raspberry rose buttercream frosting
Once your rosewater cupcakes have been baked and cooled, all that's left is to frost them! I paired these light and fluffy cupcakes with a flavorful raspberry rose buttercream frosting. It's so delicious no one will guess it's vegan! All you need is the ingredients below:
Vegan Butter
My personal favorite is Earth Balance.
Vegan Shortening
Adding just a little bit of shortening has been a game-changer for my vegan buttercream frostings. It helps the frosting have a fluffier texture which we love but if you can't find vegan shortening or do not wish to use it simply substitute the shortening 1:1 for vegan butter. Please note the final buttercream will be thicker and not as soft!
Aquafaba– Liquid from a can of chickpeas
This is totally optional, but by adding just a little bit of aquafaba it acts as an egg white would in a swiss meringue buttercream and the result is a light, fluffy frosting!
Organic Powdered Sugar
Make sure to check if the powdered sugar is vegan! Some powdered sugars use animal bone in them!
Rosewater- Food-grade and organic is important.
I suggest using organic food-grade rosewater so it's safe to eat!
Freeze Dried Raspberries-
This is my secret ingredient! It adds the best raspberry flavor without added liquid or artificial flavors! Simply blend up the freeze-dried raspberries into a fine powder and add to the homemade vegan buttercream frosting. You could also use freeze-dried strawberries!
Beat all of these together for the most luxurious topping for these mini vanilla rose cakes.
These vegan olive oil cupcakes with raspberry rose buttercream are the perfect cupcakes for someone special this year! They would make a sweet gift for "that hard to buy for" person or foodie friend! I mean if you ask me, vegan Valentine's cupcakes would be the way to my heart. But whether or not you are making these for a lover, friend, Galentine, or yourself I hope your heart is filled with love eating these vanilla rose cupcakes!
Print
Vegan Olive Oil Cupcakes with Raspberry Rose Buttercream
---
Description
Perfectly soft and fluffy vegan cupcakes with raspberry rose buttercream frosting. These olive oil cupcakes are easy to make, delicious, and a perfect vegan valentine cupcake!
---
Rosewater Olive Oil Cupcakes:
2 teaspoon

apple cider vinegar 

1 1/3 cup

+

1 tablespoon

oat milk 

1/4 cup

extra virgin olive oil

1 teaspoon

vanilla extract 

1/4 teaspoon

almond extract 

1 tablespoon

rose water

1 cup

organic cane sugar 

2 cups

+

1 tablespoon

all-purpose flour

1/2 teaspoon

salt 

1 1/2 teaspoon

baking powder 

1/2 teaspoon

baking soda

1/4 cup

raspberry jam
Raspberry Rose Buttercream:
1 cup

vegan butter, room temperature 

1/4 cup

vegetable shortening 

3 Tablespoons

aquafaba (chickpea brine-liquid in a can of chickpeas)

1 teaspoon

vanilla bean 

1 teaspoon

rosewater

5 cups

organic powdered sugar

1/4 cup

freeze-dried raspberries, crushed

1 teaspoon

beet powder

2 Tablespoons

dried roses for garnish
---
Instructions
In a large bowl combine 1 1/3 cup oat milk and 2 teaspoon apple cider vinegar to make the vegan buttermilk. Let the milk and vinegar sit for about 3-5 minutes.
Preheat the oven to 350 degrees and line a 12 cupcake pan with paper liners. 
Then add in 1/4  cup extra virgin olive oil, 1 teaspoon vanilla extract, 1/4 teaspoon almond extract, and 1 tablespoon rose water to the vegan "buttermilk" bowl. 
Stir in 1 cup of organic cane sugar to the batter.
Then add 2 cups + 1 tablespoon all-purpose flour, 1/2 teaspoon salt, 1 1/2 teaspoon baking powder, 1/2 teaspoon baking soda. Stir just until incorporated to avoid over mixing. 
Next, transfer the batter evenly into the cupcake pan and bake for 14-16 minutes, until a toothpick comes out clean.
Then remove the cupcakes from the oven and allow them to cool in the pan for 5 minutes before removing the cupcakes from the pan and transferring them to a wire cooling rack to continue cooling. 
While they are cooling make the buttercream frosting by whipping 1 cup of softened vegan butter and 1/4 cup of vegetable shortening for 2 minutes. 
Then add in 3 tablespoons aquafaba and whip for another 2 minutes. 
Add in 1 teaspoon of vanilla bean and 1 teaspoon of rosewater to the butter and stir well.
Next, sift in 5 cups of organic powder sugar while whipping continuously. 
Then add in 1/4 cup of finely crushed freeze-dried raspberries and 1 teaspoon of beet powder until fully incorporated and the frosting is super fluffy and pink. 
Remove a small amount of the center of the cupcakes and fill with a raspberry jam. 
Then fill a piping bag with frosting and frost the top of each cupcake. 
Garnish the frosting cupcakes with dried rose petals and enjoy!
---