Fluffy baked donuts dipped in a vanilla bean glaze and drizzled with pink salted caramel sauce. These vegan caramel donuts are so good and secretly easy to make too! If you ask me, these Salted Caramel Baked Donuts are best enjoyed with a warm cup of coffee!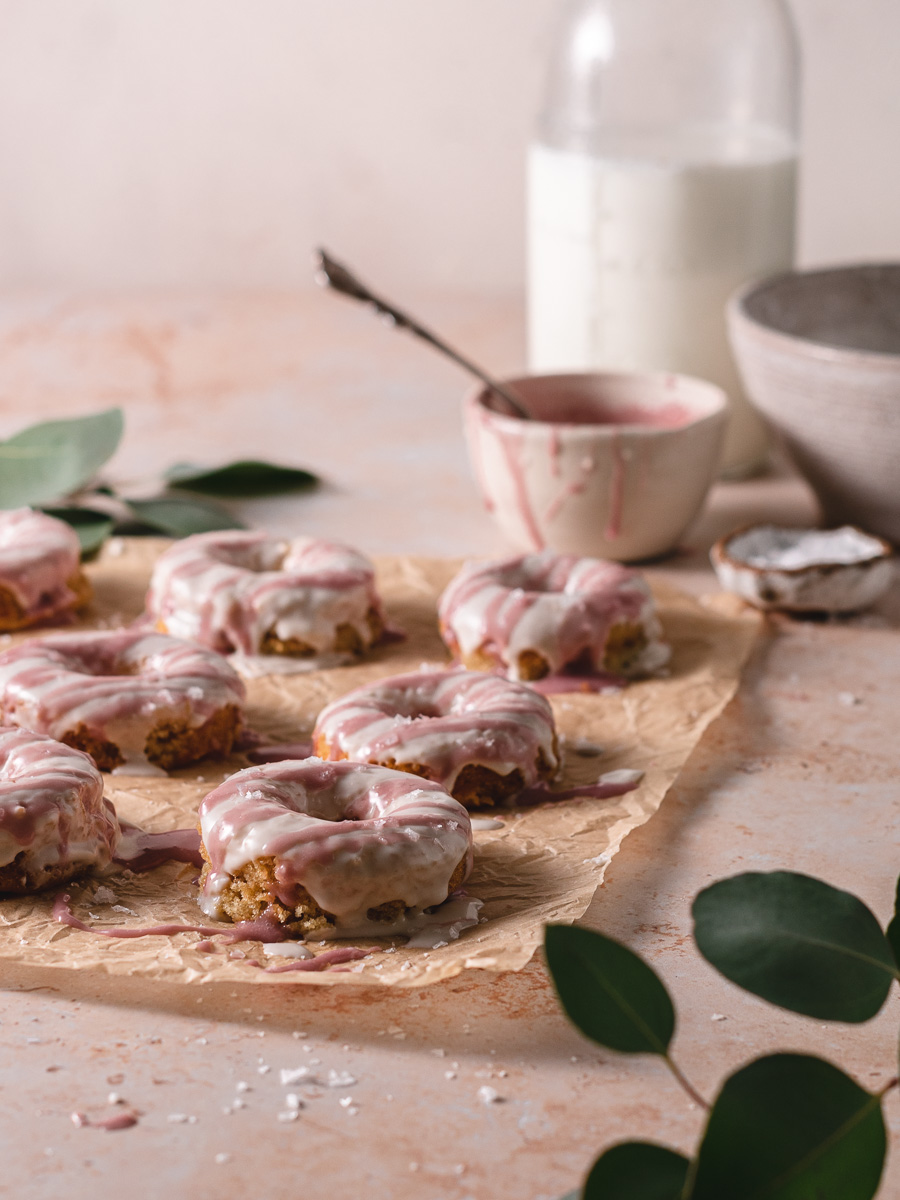 What if I told you that I didn't like doughnuts growing up? Before I lose all street credit, let me explain!
I never liked the fried doughnuts because they were always greasy and made my stomach hurt. It wasn't until much later in life when I learned about cake donuts and omg, was I living under a rock or something?
Cake doughnuts are way better than fried in my opinion because they are soft and fluffy like a muffin and never greasy! This vegan cake donut recipe was made by modifying this Olive Oil Cupcake Recipe and drizzling a vegan salted caramel sauce on top! They are easy, delicious, and the perfect combination of salty and sweet.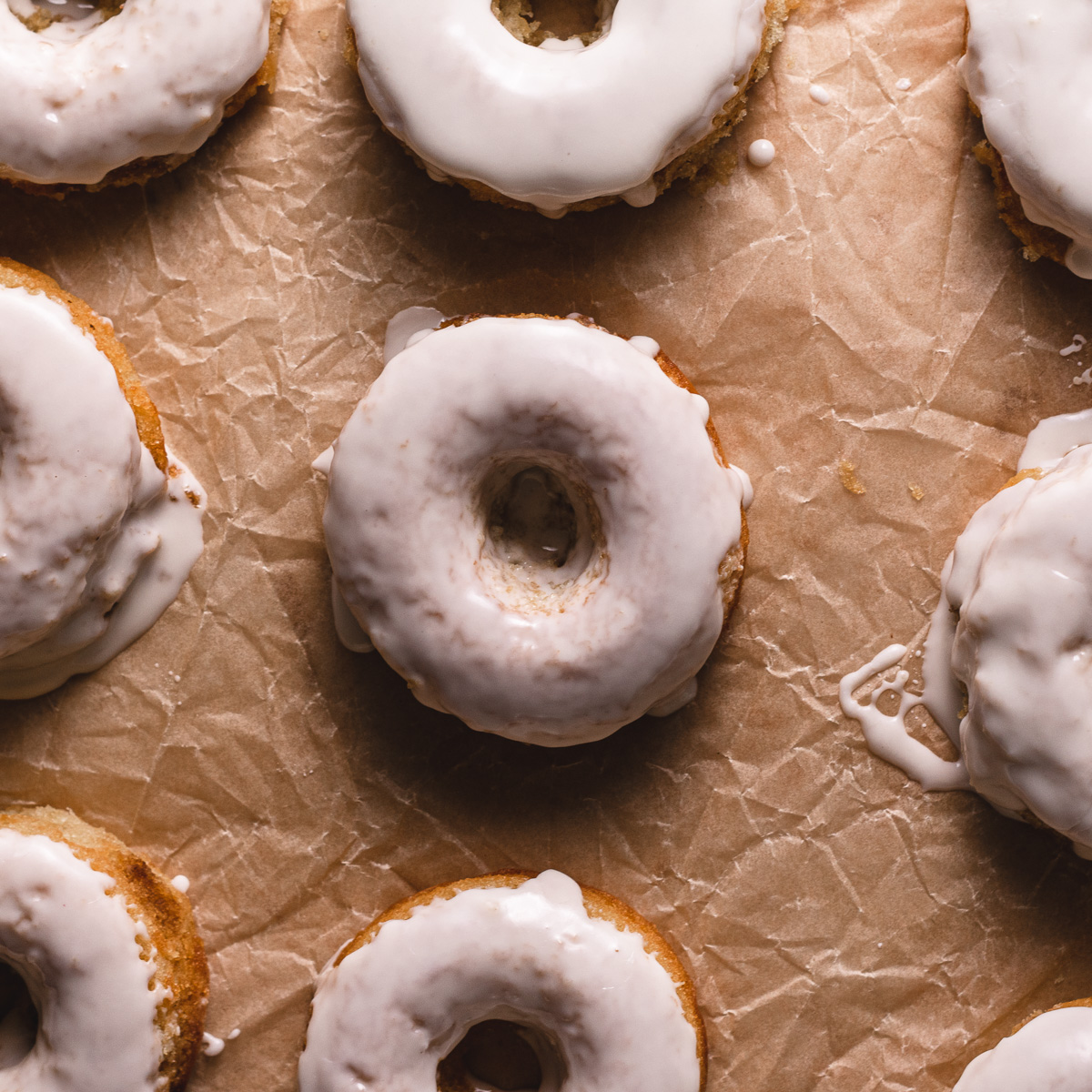 How to make fluffy baked donuts without eggs
For many people, vegan baking is tricky because there are no eggs. Eggs act as a binder and help baked goods to rise. There are many vegan egg alternatives though that can help you achieve the same delicious baked good without any animal products! Here's a great resource for vegan egg substitutes! For this recipe, we used leavening agents and vegan buttermilk to make these vegan caramel donuts.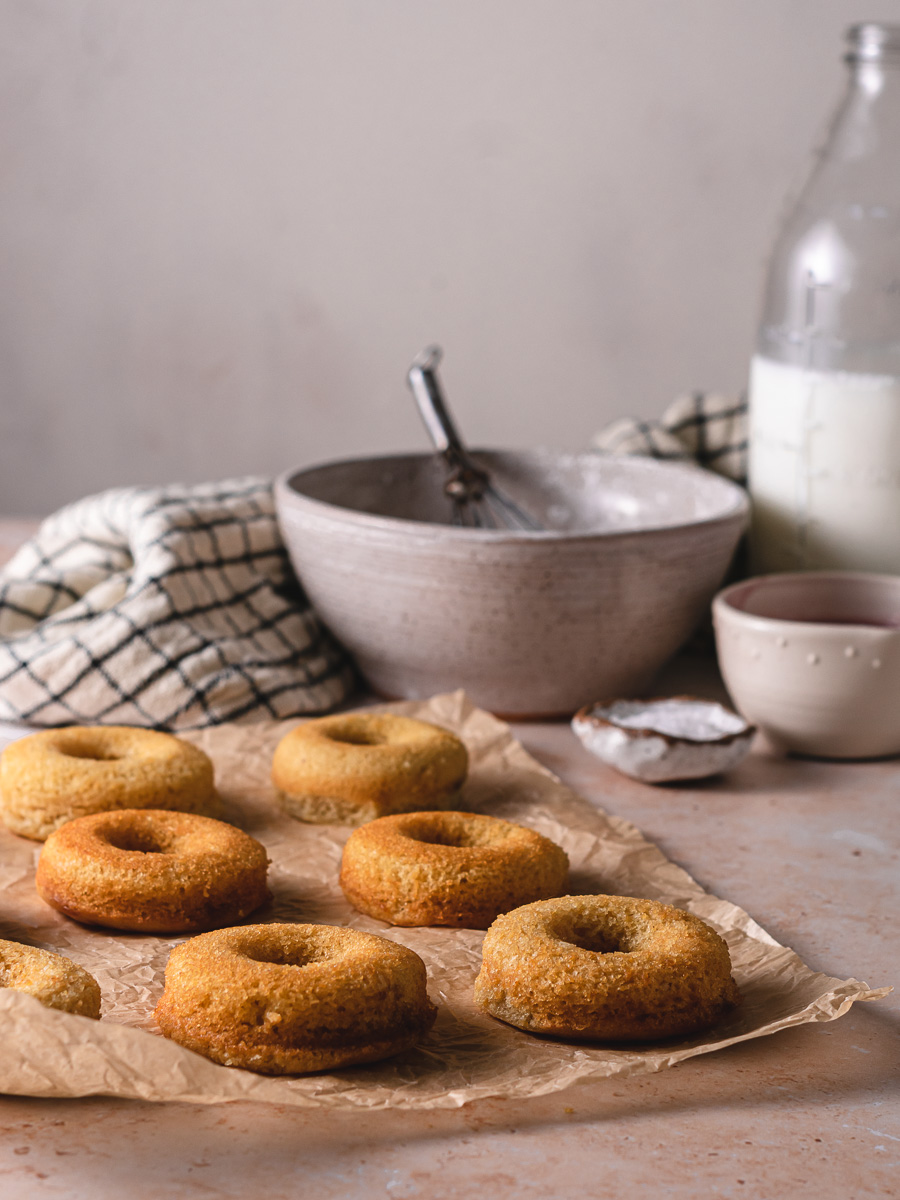 Proper Ratio of Liquid and Dry Ingredients
To achieve perfectly fluffy baked donuts you want them to rise a lot while baking. The most important thing is to make sure you have enough dry ingredients and leavening agents to help the batter to rise and to avoid a dense, soggy donut. No one wants that!
Leavening Agents
As I mentioned earlier, you will need to use a little bit of both baking soda and baking powder to achieve the best texture for these salted caramel donuts. Since they are egg-free, the leavening agents play an even more important role in creating the best texture.
Vegan Buttermilk
Vegan buttermilk is just a really fancy way of saying non-dairy milk and vinegar! Which is another thing I wish I knew about years ago! Vegan buttermilk will help these baked caramel donuts remain moist, soft, and fluffy while baking just like these fluffy Vegan Buttermilk Pancakes.
Tips and tricks for the best vegan cake donuts
The ingredients for the donuts are pretty straightforward. So, instead of boring you with an ingredient list, I thought I would share some tips and tricks for the fluffiest baked caramel donuts.
Grease the Pan – To avoid the vegan donuts from sticking to the mold while baking make sure to use a spray grease or paper towel to spread coconut oil into the pan. Make sure to go around the middle part of the pan that creates the hole in the middle of the donut. This part tends to stick the most!
Use a Piping Bag for Easy Filling – To make filling your donut mold easier, use a piping bag and a wide tip. This will allow you to squirt the batter evenly into the mold and avoid dripping on the outside or on the middle piece of the pan. Note that the batter is pretty thick so a wide tip is needed! Alternatively, you can use a spoon to evenly distribute the batter.
Tap the Pan on the Counter – Before baking tap the pan on the counter 2 times to make sure the batter is settled evenly throughout the baking pan. Don't do this too many times though or your batter can become dense as well.
Use an Oven Thermometer – Many ovens aren't calibrated to the correct temperature and this can totally change the outcome of your baking! Make sure your oven is ready to go by using an internal oven thermometer to measure the temperature before and while baking to ensure an even bake.
Allow the Donuts to Cool – Let the donuts cool for 5 minutes inside of the pan before transferring to a cooling rack. This allows them to firm up and hold not break when you remove them from the baking pan. Allow them to cool completely before glazing.
Vegan salted caramel sauce
The salted caramel sauce is so delicious you are going to want to put it on everything. So, consider yourself warned!
It really doesn't take too much time to make the homemade caramel sauce and you can use it in lots of recipes too! What makes salted caramel better? Pink salted caramel! This vegan salted caramel sauce is tinted pink from a touch of beet powder and white frosting pigment. This is totally optional though and doesn't affect the flavor at all!
When you are making the caramel for these salted caramel baked donuts the most important thing to remember is to work with a medium-low temperature and stir continuously to avoid burning the sugar! Also, the first time you make caramel you might be surprised at how long it takes to melt the sugar.
It took me about 10 minutes to melt the sugar completely!
Vegan Brunch Favorites You Will Love:
If you recreate these Caramel Baked Donuts, please let me know how you liked it by leaving a comment and rating below, and don't forget to tag me on Instagram @flaxandsugar, I love seeing all of your tasty recreations! Hungry for more? Be sure to subscribe to my newsletter and follow along on Instagram and Pinterest for more deliciousness!
Salted Carmel Baked Donut Recipe
Print
Salted Caramel Baked Donuts
Author:

Prep Time:

30 minutes

Total Time:

30 minutes

Yield:

12

donuts

1

x

Category:

Breakfast

Method:

Baking

Cuisine:

American

Diet:

Vegan
---
Description
Super soft vanilla baked donuts dipped in vanilla bean frosting and drizzled with pink salted caramel sauce. These sea salted caramel donuts are delicious!
---
Vanilla Baked Donuts:
1 teaspoon

apple cider vinegar

2/3 cup

oat milk 

1 cup

all-purpose flour

1/4 teaspoon

salt

3/4 teaspoon

baking powder 

1/4 teaspoon

baking soda

1 teaspoon

vanilla 

2 tablespoons

extra virgin olive oil

1/2 cup

organic cane sugar
Vanilla Bean Glaze:
1 cup

organic powdered sugar

2 1/2 tablespoons

water

1/2 teaspoon

vanilla bean paste
Pink Sea Salted Caramel Sauce:
1 cup

organic cane sugar

2 tablespoons

coconut oil

3 tablespoons

coconut cream, room temperature

1/4 cup

oat milk

1/2 teaspoon

beet powder* optional

1/2 teaspoon

salt 

2

drops of white frosting coloring * optional

1/4 teaspoon

pink edible sparkles * optional
---
Instructions
Sea Salted Caramel Sauce:
Make the vegan salted caramel sauce first so it has time to thicken and cool. To prepare the caramel sauce place 1 cup of organic cane sugar and 2 tablespoons coconut oil in a saucepan and heat on medium. 
Continue to stir the sugar to prevent it from burning. As the sugar heats up it will begin to melt. Keep stirring until all the sugar has melted and the liquid is brown.  This can take up to 10 minutes to melt completely.
Turn the heat off and whisk in 3 tablespoons of coconut cream, one at a time. Make sure the coconut cream is at room temperature to prevent shocking the caramel causing it to harden too fast. 
Then whisk in 1/4 cup of oat milk and turn the heat back on to medium. 
Bring the caramel to a low boil while stirring continuously. Allow the caramel to bubble for 2 minutes on low heat while stirring, and then remove from the stove. 
Sift 1/2 teaspoon beet powder into the caramel and sprinkle with sea salt. Stir until these are blended into the caramel and add 2 drops of white frosting color if desired to change the caramel color to light pink.
Transfer the caramel into a glass container and allow it to cool while you make the cake donuts. The caramel will thicken as it cools. 
Vanilla Baked Donuts
Preheat the oven to 350 degrees and grease a donut pan well.
In a medium bowl combine 1 teaspoon of apple cider vinegar with 2/3 cup of oat milk. Set aside and let curdle for 3 minutes to form a vegan "buttermilk". 
In another bowl combine 1 cup of all-purpose flour, 1/4 teaspoon salt, 3/4 teaspoon baking powder, 1/4 teaspoon of baking soda, and whisk together. 
Then add 1 teaspoon of vanilla, 2 tablespoons of extra virgin olive oil, and 1/2 cup organic cane sugar to the vegan buttermilk mixture and stir.
Add the dry ingredients to the wet and stir just until combined. Avoid over stirring the batter to keep the donuts fluffy. 
Transfer the donut batter to a piping bag with a wide tip for the easiest and cleanest way to fill the donut molds. Then squeeze the batter to fill each donut mold evenly. Alternatively, you can use a spoon and carefully fill each.
Transfer the donuts to the oven and bake for 13-15 minutes until a toothpick comes out clean from the center of the donut. 
Then remove the donuts from the oven and allow them to cool inside the pan for 5 minutes before transferring them to a wire cooling rack to finish cooling.
While the donuts cool, prepare the vanilla bean glaze.
Vanilla Bean Glaze
In a small bowl, combine 1 cup of sifted organic powdered sugar with 2 1/2 tablespoons water, and 1/2 teaspoon vanilla bean paste. Whisk the ingredients together until a smooth glaze forms.
If the glaze is too thick add additional water 1 teaspoon at a time until desired thickness is reached.
After the donuts are cooled, dip the donuts in the vanilla bean glaze and return to the cooling wrack. Repeat until all the donuts are glazed. 
When the glaze has hardened, drizzle the sea salted caramel over the donuts. If the caramel is too thick you can reheat it for a few seconds in the microwave until soft enough to drizzle. 
Then sprinkle a tiny bit of pink edible sparkles on top of each donut and enjoy!
---
Notes
The sparkles are optional! If you want to use sparkles you can find the kind I used here. 
The white frosting coloring is also optional. It does not change the flavor or texture of the caramel. It only changes the color to light pink! 
The beet powder is optional. It doesn't change the flavor or consistency of the salted caramel sauce and is only used to change the color pink! If you do want to use beet powder, you can find the brand I used here. 
---
Nutrition
Serving Size:

1 donut

Calories:

200
Keywords: donut, doughnuts, salted caramel, baked donut, vegan donut