This tofu bacon recipe is perfect for vegan BLT's, sandwiches, breakfasts, and salads! It's easy to make and seasoned to perfection. Its smokey flavor is like real bacon and so delicious! Liquid smoke tofu bacon is so delicious even made my non-vegan family loved it! This vegan tofu bacon just goes to show that eating plant-based doesn't have to be boring!
Ingredients
In order to create a smokey and delicious bacon flavor, this tofu bacon recipe calls for a healthy dose of extra virgin olive oil, a handful of spices, and liquid smoke. Liquid smoke is the most important spice in this whole recipe because it's what gives this tofu a "bacon-like" flavor.
Extra Firm Tofu- This is the most important part! The tofu you use must be extra firm in order to hold its shape and have the desired texture.
Liquid Smoke- There different brands out there but we used Wright's Hickory Smoked flavor. Please make sure that the liquid smoke you choose is not bitter. I have tasted some brands that are really off-putting!
Smoked Paprika- This also adds to the smokey flavor
Maple Syrup- Just a touch of sweetness balances the smokey flavor!
Sriracha- A tiny kick! It's totally optional though!
Nutritional Yeast- A vegan pantry staple. Seriously, if you haven't had this product yet I suggest getting yourself some ASAP! It has a cheesy flavor that is delicious in so many dishes like these Cauliflower Mashed Potatoes and this Wild Rice and Mushroom Soup too.
Extra Virgin Olive Oil- Ok, so what makes bacon so good? The high levels of salt and fat of course! This recipe calls for a good amount of oil which helps keep the tofu from drying out while baking. It's coated in a delicious flavorful sauce the whole baking process which results in the best tofu bacon!
Tamari or Coconut Aminos- This adds the salty flavor we know and love in traditional bacon. And like I said before the winning combination is a good amount of salt and fat for a tasty vegan bacon strip!
Black Pepper
Garlic Powder
How to make vegan tofu bacon
In order to get a nice "bacon-like" texture and flavor, it is important to remove most of the liquid. An easy way to do this is to open a package of tofu and remove as much water as your can. Then, place a few layers of paper towel on a plate, place the tofu block on the plate, and then cover with additional paper towels. Then place something of medium weight like another plate on top of to press the excess water out. I let this sit for about 10-15 minutes. During this time you can make the sauce and allow the oven to preheat.
Then once the sauce is made and most of the water is removed, slice the tofu into thin strips (see photo for reference). The thinner you slice it the crunchier it will be. For chewier pieces of vegan tofu bacon keep your slices a little bit thicker!
Next, place the slices on a parchment-lined baking sheet and brush all sides with the flavorful sauce, and coat evenly!
Then all that is left is to bake until it's slightly crispy on the outside and chewy through the middle. For the full recipe and ingredient list please refer to the recipe card below.
How to achieve the perfect bacon texture with tofu
Remove the Excess Water- Traditionally tofu comes submerged in a small amount of liquid to keep it fresh. This liquid needs to be removed and the tofu pressed (see intructions) for the best bacon texture.
Tofu Slice Size- This is totally up to you because the size you slice the tofu will change the finished texture. If you want a crunchier texture slice thinner and for a more chewy texture slice a little thicker. Please note that the size of your slices will change the total baking time. If you slice thinner the baking time will be less and thicker will need a little more time!
Give the Tofu Slices Some Space!– When you are placing the slices on the baking sheet make sure each strip has its own space and they aren't overlapping on top of each other.
Oven Temperature- The temperature you bake at will greatly affect the overall finished texture. I prefer to bake the "bacon" at 375 degrees for 30-45 minutes. This gives it a really nice texture while maintaining the most flavorful vegan tofu bacon on the planet.
Don't Over Bake!- Try to avoid overbaking! The tofu will become a bit rubbery if you bake it too long. To avoid this, remove the tofu bacon from the oven a little bit before your feel it's ready. The tofu will continue to firm up after it's been removed from the oven. Towards the end of the cooking time, feel free to check every five minutes for visual cues. You are looking for the edges to start to brown and curve. The goal is to have variations of crispy, crunchy, and chewy.
How do you make it taste like bacon?
High Fat & Salt- This is definitely not the healthiest tofu recipe out there. But, dang is it good! We love bacon because it contains a high amount of fat. Which is like a party in our mouths, right? Well, tofu on its own is really blah. I mean please don't torture yourself eating raw tofu! So, to create a crave-able taste, this recipe uses a good amount of both extra virgin olive oil and tamari.
Used Smoked Paprika & Liquid Smoke- Double the smokey flavor means double the goodness. By adding both liquid smoke and smoked paprika this smokey tofu bacon is full of flavor! The liquid smoke you use in liquid smoke tofu bacon is important though! Some brands can be bitter and for this reason, this recipe is tested with Wright's Hickory Smoked flavor.
Ways to enjoy cruelty-free bacon
Left Overs- My favorite way to store leftovers is to chop it up into little bacon bits and store them in an airtight container. These tofu bacon bits are perfect for topping salads! To use serve at room temperature. I do not suggest reheating the tofu bacon because it can become dry.
For the Perfect BLT- This tofu makes the best Vegan BLT! Make sure to use fresh tofu bacon, a good quality sourdough or ciabatta bread, vegan mayo, a slice of tomato, and iceberg lettuce!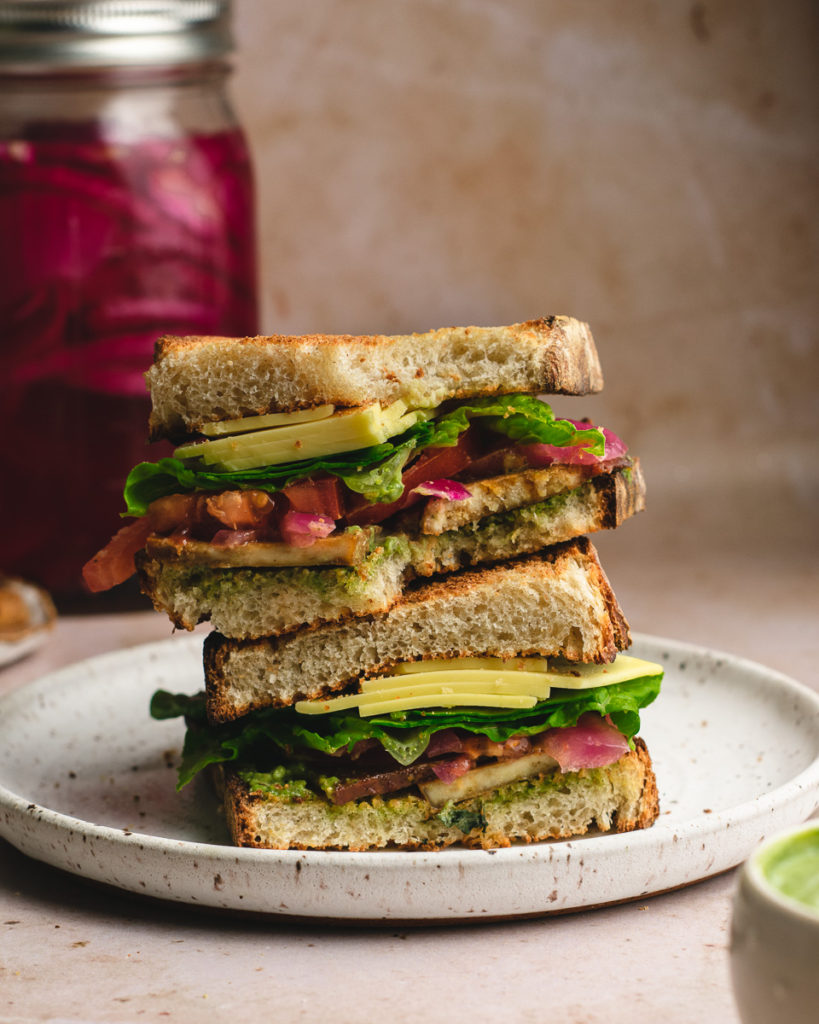 Tofu Bacon Recipe
Print
Tofu Bacon Recipe
Author:

Prep Time:

5

Cook Time:

30

Total Time:

35 minutes

Yield:

4

1

x

Category:

Savory

Method:

Baking

Cuisine:

American

Diet:

Vegan
---
Description
This smokey tofu bacon recipe is the perfect meatless protein! It's full of flavor, easy to make, and has a wonderfully chewy and crisp texture too! 
---
1

package of extra firm tofu – I used Trader Joes Extra Firm Protein Tofu because it has the best texture!

1/2 cup

extra virgin olive oil

1/4 cup

nutritional yeast

1/4 teaspoon

worcestershire sauce

1 teaspoon

sriracha 

1/4 teaspoon

black pepper

1/2 cup

tamari

3/4 tablespoon

liquid smoke- I used Wright's hickory smoked

1/4 teaspoon

smoked paprika

1/8

th teaspoon garlic powder

2 tablespoons

maple syrup
---
Instructions
Preheat the oven to 375 degrees.
Open the tofu package and remove the excess liquid. Place the block of tofu on a paper towel-lined plate and cover the top with additional paper towels. Then, place a plate or something of medium weight on top of the paper towel wrapped tofu to press out the excess liquid.
In a small bowl combine 1/4 cup of olive oil with all of the other ingredients. Stir well until fully incorporated and then drizzle in the remaining 1/4 cup of olive oil and stir again.
After the tofu has been pressed for about 5 minutes thinly slice the tofu into strips about 1/8″ thick (see image above for reference) and pat dry. 
Pace the tofu slices on a lined baking sheet and brush over each with the olive oil mix. You can pour the sauce over the tofu as well just make sure to evenly coat all sides and every piece. 
Bake the tofu for 25-35 minutes and then remove the tray from the oven and flip each piece of tofu over and return to the oven to bake for an additional 15-20 minutes. Make sure to check on the tofu while baking the second time to avoid burning. You want them to be crispy on the edges without burning and each oven will vary on the exact needed baking time.
Remove from the oven and allow to cool slightly before serving and enjoy!
---
---
Keywords: bacon, tofu bacon, smokey bacon, blt, vegan bacon