This chickpea avocado sandwich recipe is so easy to make and the perfect meal prep recipe! Avocado and chickpeas are the perfect tuna salad or chicken salad alternative. They create a similar texture when smashed, and the avocado makes it oh so creamy and oil-free! It's dairy-free, plant-based, and high-protein (thank you chickpeas!), and made with Maille Dijon Originale Mustard which makes it one of the best vegan sandwiches I've ever had!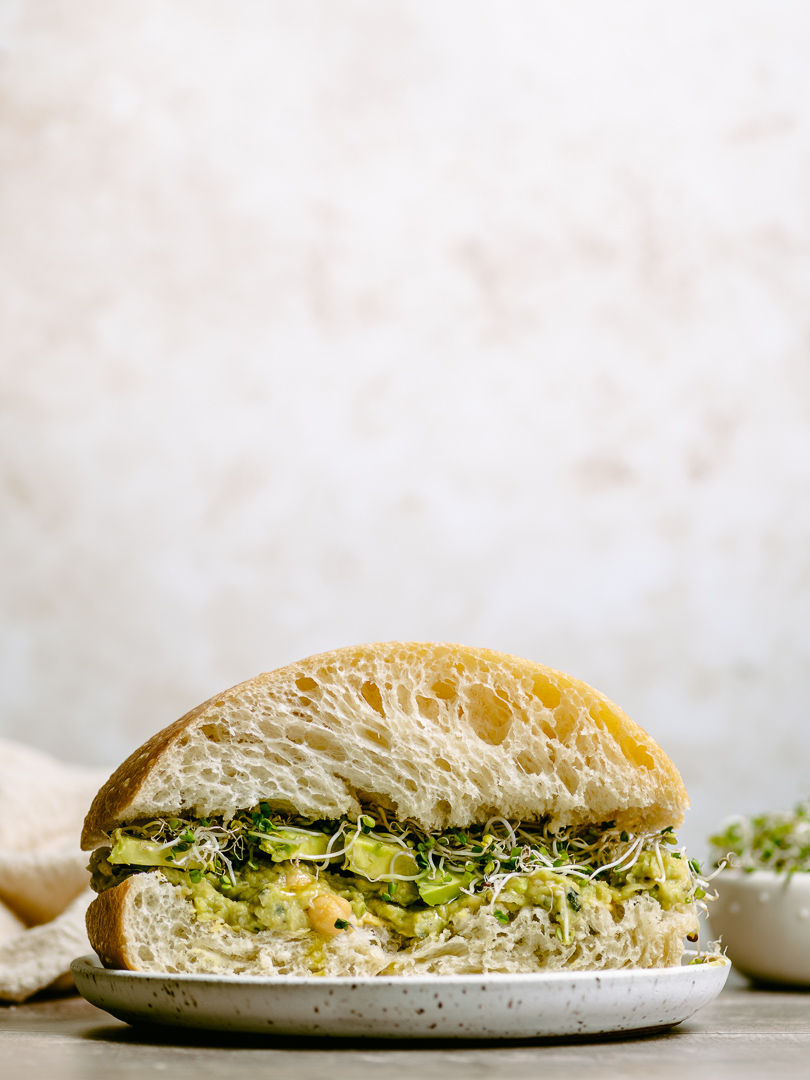 The fact that it takes less than 10 minutes to make is also a bonus! I'm a huge fan of easy-to-make meals like this 30-minute vegan mushroom stroganoff, especially during lunch! I partnered with Maille to create this recipe for you! It's the perfect picnic lunch and absolutely delicious thanks to their high-quality mustards. So, let's take a look at how it's made!
This post is sponsored in partnership with Maille and as always all opinions expressed are my own. Thank you for continuing to support brands that help make Flax & Sugar possible.
How to make a chickpea avocado salad sandwich
Ok, so the best part about this creamy mix of smashed chickpeas and avocado is you aren't tied to making it a sandwich! Nope. That high-protein mix is perfect for dipping and snacking too! Or just add a scoop to a bed of greens for a delicious chickpea avocado salad.
While traditional tuna salad is made with mayo, this recipe is oil-free and mayo-free! We've replaced the mayo with avocado instead for a serving of heart-healthy fats. I would like to mention that there are a ton of vegan mayonnaises out there now though! My personal favorite is made by Follow Your Heart.
To make this chickpea avocado salad sandwich simply drain and wash a can of chickpeas, add avocado, garlic powder, salt and pepper, and nori flakes to a blender. Pulse the ingredients until combined but some whole chickpeas remain for texture!
Slice a loaf of fresh ciabatta, slather a generous layer of Maille Dijon Originale onto one side of the bread, top with a scoop of chickpea avocado salad, some organic broccoli sprouts, and fresh cracked pepper.
Ingredients:
Let's keep it simple. Pure, organic, simple ingredients with one sneaky superfood broccoli microgreens. Other than those, which I'll tell you more about below, and some optional nori flakes, the other ingredients are probably things you have already tried and heard of! Let's take a look:
Canned Chickpeas
Avocado
Garlic Powder
Nori Flakes * optional but encouraged. We found ours at Trader Joe's! Nori flakes are made from roasted seaweed which adds a salty brine similar to seafood. Which makes it the perfect addition to this avocado chickpea salad if you are desiring a tuna fish salad replacement!
Salt
Black Pepper
Maille Dijon Originale brings this whole sandwich together! They have the highest quality mustards, made with the purest ingredients. We partnered together to bring you this delicious recipe!
Health benefits of broccoli sprouts
Okay, so we all know that broccoli is so healthy for us. It's full of nutritional benefits including; vitamin A, beta-carotene, amino acids, and lots of fiber! But, do you know what's even healthier than broccoli?
Broccoli Microgreens
Studies have shown that broccoli microgreens can have up to 40 times the amount of vitamins and minerals than their mature counterparts (source). Broccoli microgreens have a super high amount of vitamin C.
Broccoli microgreens have a large serving of magnesium, manganese, copper, and zinc. These are very essential minerals that most people, especially vegans, are deficient in. Since vegans aren't eating meat, it's common to be deficient in these nutrients. They also contain high levels of sulforaphane, a nutrient that possesses anti-cancer and anti-inflammatory properties.
Microgreens are amazing because they contain all of these essential and powerful nutrients within only 10-14 days after germination. It's totally mind-boggling that a tiny little sprout has more nutritional benefits than a head of broccoli. So, the moral of the story is by adding a pinch of broccoli sprout to this chickpea avocado salad, you've made it a superfood powerhouse!
Why we love it
This chickpea avocado salad sandwich makes the perfect go-to picnic recipe. It's easy to make and since it's mayo-free there is less of a concern with it going bad in the sun.
Dairy-free
Gluten-free
High-protein
Easy
Healthy
Oil-free
Perfect for picnics
Versatile serving options
More vegan sandwiches to try:
Print
Chickpea Avocado Salad Sandwich with Broccoli Sprouts
Author:

Prep Time:

10

Total Time:

10 minutes

Yield:

3 sandwiches

Category:

Lunch

Cuisine:

American
---
Description
Healthy, high-protein, oil-free vegan sandwich that's perfect for picnics or a quick easy lunch! This Chickpea avocado salad sandwich with broccoli sprouts is so good for you and so tasty too!
---
·       1 can of chickpeas, drained and rinsed
·       1 ripe avocado
Maille Dijon Originale Mustard
·       1 ½ tsp salt
·       ½ tsp black pepper
·       1 tsp. garlic powder
·       1 tsp. lemon juice
·       1 tbsp. nori flakes (optional but give it a fishy taste)
·       Broccoli sprouts
·       Fresh ciabatta sliced
·       Optional drizzle of olive oil
---
Instructions
Drain and rinse 1 can of chickpeas. Place all ingredients except the sprouts, mustard, and bread in a blender and pulse. Pulse lightly to bring together but leave some bigger pieces of chickpeas.
Slice the ciabatta and spread a layer of Maille Dijon Originale mustard on the bread.
Top with avocado chickpea spread, layer with sprouts, and finish with a drizzle of olive oil.

 

Enjoy!
---
---
Nutrition
Serving Size:

1 sandwich

Calories:

410
Keywords: chickpea, avocado, smashed chickpea, sandwich, vegan sandwich, vegan lunch, broccoli sprouts